Customer feedback design
There are many things that make Apple successful... and there's no secret that their customer service is renowned for being second-to-none.
This week is the first time in 20 years that I've had to phone Apple customer service. That's a good indication of their design and product quality, and their customer service was as good as I expected.
And even better, I received an automated request for feedback from Apple within 1 day.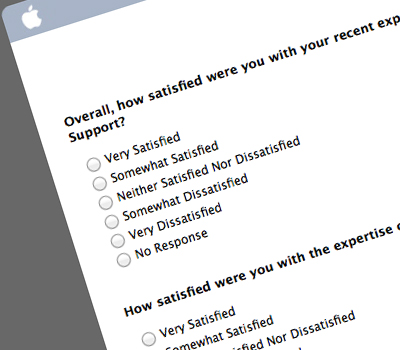 Apple's innovative devices, software and apps mean that most users will repurchase Apple products and also recommend them to other people. But this brand's high level of customer service is undoubtedly the icing on the cake. Continually great customer experience is the result of:
staff training and staff quality;
service efficiency;
internal systems;
innovative customer service (e.g. roaming check-in staff);
their ability to adapt to meet customer needs.
What's an efficient way for Apple to improve their customer service? Ask for customer feedback.
The customer service feedback form from Apple was a timely reminder for us at Creative Passion (so if you're a recent customer, you can guess what's coming your way soon). So wouldn't you like to know how your business is performing and where it can improve?
There are cheap automated and manual systems we can design and implement, to help you improve your staff and systems.
Get personal and direct feedback from customers.
Learn how your staff are perceived (e.g. helpful, knowledgable, polite).
Were customers happy with the end result?
Understand where they have concerns or suggestions for improvement.
Learn how and why you lost a customer or job.
Automatically prompt testimonials.
Improve your communication and relationship with that customer.
Design tips
Keep it short and simple
This respects your customer's time, and increases their likeliness of participating.
This will also make it easier to evaluate and collate feedback.
Use checkboxes
Ask at least one open question at the end of the questionnaire
This will allow customers to provide additional information which explains their previous answers.
This will allow the customer to provide feedback which doesn't relate to previous questions.
What do you think?
7 March 2013 at 1:31pm
Good tips. The word "questionnaire" is misspelt on your webpage.
7 March 2013 at 1:42pm
Glad you appreciate our tips Helen! And thanks for your tip too. Fixed!