Did Fedex win the trademark battle against Jetstar?
When Jetstar was launched in 2003, I recall there was a lot of controversy (certainly in the designer community) about the new Jetstar logo, and its similarity to the legendary FedEx logo (which I should point-out was first registered in Australia in 1994).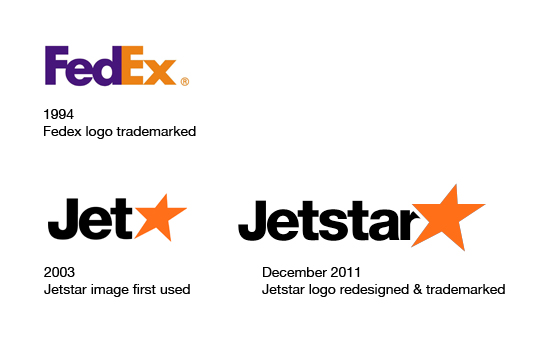 Now because FedEx isn't in the business of transporting passengers, you might think that the font similarity or orange colour didn't matter too much. And if that's where the similarity ended, it probably wouldn't matter. But the arrow shape created by the white space between the "E" and "x" in the FedEx logo creates an arrow (which some people possibly don't see). And this clever graphical "trick" is where most designers felt that Jetstar was blatantly copying.
So in the first nine years of operation, Jetstar used their initial logo, and registered the word "Jetstar" as a trademark and not the graphical representation of their logo.
Imagine my surprise when I saw a Jetstar ad on tv in 2012, and the logo had changed.
So do you think it's a coincidence that Jetstar has rebranded and trademarked their new logo?
What do you think?